Went on an obedience training day yesterday. It was really good, very interesting. I learnt a lot about reasons why Tia may be screwing up in the ring. I also learnt I reward her a lot more when she is nervous/scared, to try and take her mind off what is worrying her. But it just babies her and makes her more aware something is up. I now have to build up sequencing in my training, so we do heelwork, DC, sendaway and retrieve before she gets her reward. Poor Tia, I just can't help but reward her each time, she's too cute!
I had an agility lesson this morning... Tia has slowed up again, *groan*!!! I'm so loving training the bad sheltie (who incidentally was brilliant) that Tia's not getting enough work, and I think she still needs to be fitter. More training needed. Actually, better training is needed, as I keep going out to train with no goals and it doesn't work! Must get a better training plan! For obedience and agility!!!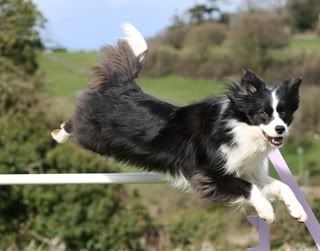 Ember's training is going really well. Her start line waits are fab. She's quick to correct herself if she gets up when I say 'goose' or 'green' she quickly lies back down again. Her dog walk and aframe are speeding up a lot and she's straight into 2o2o rather than stopping 4on or 4off. She got every weave entry as well today, and was really steadying herself down to make sure she got them, so I think using the long jump as a weave guard is working as she hasn't been able to make an error on them for weeks now.